Location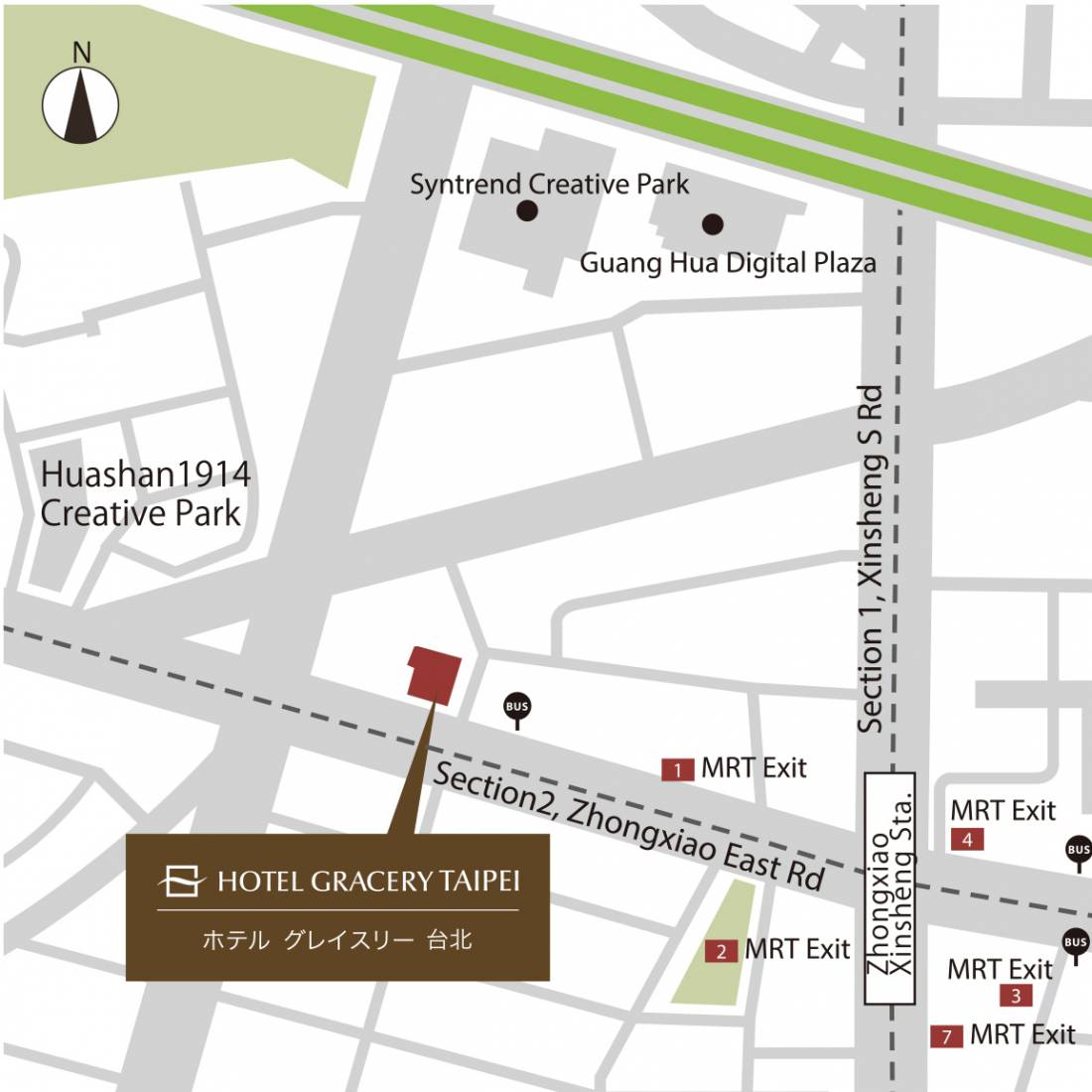 By train
MRT (subway)
• About 1 min. on foot from Exit 1 of Zhongxiao Xinsheng Station on the Bannan Line or Zhonghe–Xinlu Line
By plane
• Taoyuan airport airportline :A1 Taipei station about 40-minute,Transfer of Bannan line to Zhongxiao Xinsheng station about 5-minute.
• Airport bus from Taipei Songshan Airport Bus Stop No. 1: 262, 262副 (sub), about 20 mins
From the airport
From Taoyuan International Airport
By airport bus
• 【Taoyuan airport metro】A1 Taipei station (about 40-minute),Transfer to Bannan line to Zhongxiao Xinsheng station (about 5-minute),walk for 1-minute from exit 1.
By taxi
• Around 40 mins. (around 1,000 TWD)
From Taipei Songshan Airport
By bus
• 262, 262副 (sub), get off at Zhongxiao Elementary School (around 20 mins.), walk for around 1 min.
By taxi
• Around 15 mins. (around 180 TWD)
Parking Information
Operator: Times, Inc.
General fee
30 yuan per 30 minutes (maximum 250 yuan on weekdays, no maximum charge on weekends or holidays)
Discount for guests
Up to 350RMB for 24 hours after entry
(If you check out before midnight and leave before midnight, the fee is NT$175)
How to get the discount for hotel guests
Scan the QR code of the hotel's unified development voucher at the parking machine.
The hotel will issue a QR code for those who do not receive a bill in advance.
If you don't get the QR code in advance, the hotel will issue it to you. (Please ask at the front desk).
* Bikes are not eligible for discount.
* The entrance of the parking lot is located on Linyi Street.
【Passengers who need to use the parking lot】
The hotel does not provide a free parking lot, here is the information of the special underground parking lot.
30 minutes / 30 yuan, the maximum daily charge cap is 175 yuan (residents).
The maximum charge for one night (=two-day trip) is NT$ 350, and so on.
If staying guests pre-use the parking lot, they can ask the hotel staff at the counter or call 02-2322-0111.
https://taipei.gracery.com/wp-content/themes/fujita-subsite/img/icon-map-marker-gracery.png