Restaurants
KI-A-BIN-SAN
Breakfast buffet
The restaurant KI-A-BIN-SAN Grand Opening on January 1, 2023.
We serve buffet-style breakfast of Japanese and Western dishes.
Also including local cuisine, Local specialty of Taiwan fruits and Taiwan Tea.
Menu reference
Appetizers: Rolled omelet, Canapes, Mussel couscous, etc.
Japanese dishes: Japanese Salted Atka Mackerel, Japanese fried food(Japanese Fried Chicken Karaage, etc.)
Western dishes: Scrambled eggs, Beef stew, Fish meunière, etc.
Chinese dishes: Stewed Chinese cabbage with meat, Dim sum (dumplings), etc.
Vegetarian dishes: Steamed sweet potato, Avocado and chickpea salad, etc.
Sweet dishes: Pudding, Ice pops, Taiwanese sweets, etc.
Drinks: Taiwanese tea, Freshly-squeezed juice (orange, watermelon), etc.
Other: Salad, Bread, Yogurt, Cereal, etc.
Prices(incl. tax and service charge)
General public: Adult 680 yuan Child 340 yuan
Hotel guests: Adult 600 yuan Child 300 yuan
Semi-buffet lunch
The semi-buffet style lunch includes a selection of Japanese and Western main dishes, as well as salad, soup, fruit, and specially-made ice pops.
* We offer set menus of main dishes and semi-buffet dishes.
Menu reference of semi-buffet
Pork cutlet set: 620 yuan
Beef stew set: 720 yuan
Grilled hokke mackerel set: 780 yuan
Lamb osso buco set (stewed): 780 yuan
Vegetarian set (noodles or rice): 580 yuan
Semi-buffet dishes only: 380 yuan
Sample semi-buffet menu
Salads, Cold appetizers, Seafood dishes, Today's soup, Selection of bread, Desserts, Drinks, Ice pops, Fruit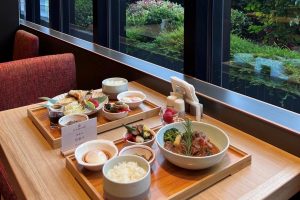 * The set menus include semi-buffet dishes.
* The listed prices include business tax, but a separate service charge (10%) will also be added to the final bill.
Opening Hours(Breakfast)
6:30 to 10:30 a.m.
(Last order: 10:00 a.m.)
Opening Hours(Lunch)
12:00p.m to 2:30 p.m.
(Last order: 1:30 p.m.)
Opening Hours(Cafe)
2:30p.m to 5:00p.m.
(Last order: 4:00 p.m.)
Capacity: 86 people
Inquiries: Tel. +886-2-2322-0119